все для подготовки к урокам
https://www.usingenglish.com/
UsingEnglish.com was established in 2002 and is a general English language site specialising in English as a Second Language (ESL). We host a large collection of tools & resources for students, teachers, learners and academics, covering the full spectrum of ESL, EFL, ESOL, and EAP subject areas.
http://www.gameclassroom.com/
Gameclassroom scoured the web for the best and most trustworthy educational games with the single goal of providing students, parents and teachers with the best interactive homework help the web has to offer!
http://teachersfirst.com/index.cfm
TeachersFirst is a rich collection of lessons, units, and web resources designed to save teachers time by delivering just what they need in a practical, user-friendly, and ad-free format. Busy teachers, parents, and students can find resources using our robust search tools
http://atozteacherstuff.com/
A to Z Teacher Stuff is a teacher-created site designed to help teachers find online resources more quickly and easily. Find lesson plans, thematic units, teacher tips, discussion forums for teachers, downloadable teaching materials & eBooks, printable worksheets and blacklines, emergent reader books, themes, and more.
http://www.teach-nology.com/
For over a decade, TeAchnology has been providing free and easy to use resources for teachers dedicated to improving the education of today's generation of students. We feature 46,000+ lesson plans, 10,200 free printable worksheets, rubrics, teaching tips, worksheet makers, web quests, math worksheets, and thousands of other great teacher resources. We are the online teacher resource that is designed to help busy Kindergarten through High School teachers.
http://supersimplelearning.com/
Super Simple Learning materials are created by experienced educators to meet the needs of young learners and those who teach them. When you listen to our award-winning kids' songs, you'll hear right away how fun and easy they are to teach through gestures and dance. When you interact with any of our videos, you'll see how quickly children react to them with bright eyes and big smiles. It all started in the classroom for us, so we pay particular attention to the small details that make learning fun and accessible to developing young minds.
Don't take our word for it though. We've got free resources and samples here for you to start using right away.
http://more.starfall.com/
Starfall has been teaching children to read with phonics for well over a decade. Our systematic approach, in conjunction with audiovisual interactivity, is perfect for preschool, kindergarten, first grade, second grade, special education, homeschool, and English language development (ELD, ELL, ESL). Starfall is an educational alternative to other entertainment choices for children.
Resources for parents, teachers and anyone who works with children. We've got thousands of fun kids activities like kids crafts, worksheets, coloring pages, printable mazes, dot to dot, hidden pictures and more.
http://esl-kids.com/
ESL-Kids.com — ESL stuff for teaching kids including flashcards, worksheets, classroom games and children's song lyrics. A great resource for teachers of ESL kids.
 We offer you a growing collection of flashcards, worksheets, free coloring pages, an alphabetfor teachers, parents and children. You can also find educative stories like Aesop Fables, or fairy-tales by Christian Anderson or Brothers Grimm, online games for kids to have fun, puzzles and other interesting stuff. Take a tour on our pages and enjoy what you'll find! You can leave your impressions or suggestions here. We would more than welcome them.
This web site is for people studying for an English language exam.
These pages contain free online practice tests for the most important international ESL exams: IELTS, the TOEFL® and TOEIC® tests, and the Cambridge English exams such as Advanced (CAE), First (FCE), Key (KET)and Preliminary (PET).
You can also do practice tests for PTE Academic, PTE General and Michigan.
Click here to see a table comparing all the exams by level.
ESL kids Lab:Provides English (ESL, EFL, ELT, ESOL) learning and teaching materials for young learners, preschool, beginners, elementary and pre-intermediate. Our materials are designed to appeal to all learning styles. You won't lack stuff for your kinesthetic, visual and auditory learners that are common in all ESL Kids classrooms. Our YL materials include among others : Video Lessons by course, Printable Worksheets, Self-grading exercises, Flashcards, Phonics Materials, Teaching tips and a host of others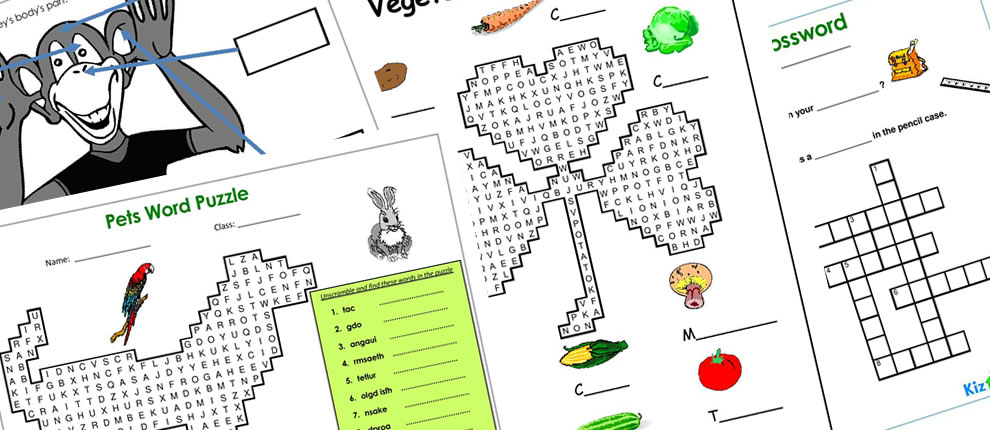 Have Fun Teaching is a website that offers free worksheets, activities, songs, and videos for teachers.
At cookie, child experts and educators design interactive online games for kids. Our learning games for kids help in building skills needed for success in school. While playing our fun educational games, kids learn to read with phonics, build skills in math, language, social studies, science and much more. Our educational videos encourage children to keep learning, even after school hours.
This ELA section features original Englishgrammar and usage worksheets for teachers and parent-teachers to copy for their kids. Use them for teaching, reinforcement, and review. Many of these free worksheets can be used as the basis for lesson plans.
LearnEnglish Kids is brought to you by the British Council, the world's English teaching experts. We have lots of free online games, songs, stories and activities for children. For parents, we have articles on supporting children in learning English, videos on using English at home and information about face-to-face courses around the world.
At Kiz School, we offer the most practical tools and materials for teaching English to Young Learners. These materials will serve school teachers and homeschoolers well as they help kids learn English in a fast and fun way.
Kiz School is an online English program for kids which provides: Video Tutorials, PPT, Interactive Games & Quizzes, Printable PDF Worksheets & Flashcards, among others. You don't need to be a professional teacher to use our materials.It is an effective, affordable private and public teaching solution for parents and schools.
lsbooks offers you a variety of free printable worksheets to use at home or in the classroom. You'll find thousands of worksheets appropriate for students in preschool through sixth grade. These educational worksheets may be used to supplement your early childhood education program, home day care resources, elementary school classroom, or home school curriculum.
This site offers more than 4,000 pages of free printable resources for teaching and learning English and ESL. We also give away free English course books, podcasts, and many other free resources. All learning resources on English Banana are free to use. Anybody can use them for commercial or non-commercial purposes.
Learning English as a second language (ESL) is not always easy, but it should be fun. 5 Minute English has been designed to give you short and easy explanations and exercises.
You can also find answers to questions that other students have had about confusing things in English. This is under the Question and Answersection. Take your time and come back to 5 Minute English often.  You'll be surprised at how much English you can learn with a little dedication.
This is the home page on the Bradley's English School website. On this page, there are links to the main menu pages for our various free online interactive activities and downloadable worksheets. Simply select the game, puzzle or worksheet you wish to use today by clicking on the appropriate link. We hope that the various items available on this website will be useful for students studying English and their teachers.
упражнения, тесты, рабочие листы
At eslkidsworld.com we offer free ESL
Printable Worksheets, Flashcards, Songs, Phonics, Games Worksheets, Powerpoint, and more for ESL/EFL kids lesson planning.Teach ESL kids with ease. Please contact us at: eslkidsworld AT googlemail.com or Click here to join our mailing list.
Welcome to Fun English Games for Kids! Find a wide range of free teaching resources that are perfect for students learning English, ESL classes and teachers looking for ideas online.
Enjoy interactive games, classroom activities, printable worksheets and much more!
Free online ESL games, grammar games, question and answer activities, vocabulary, spelling, reading and more. With 14 fun and engaging activities per vocabulary unit, the students will be fully versed after going through each program.
http://www.englishforeveryone.org/
EnglishForEveryone.org is your resource for printable English worksheets. On the left of this page you will find an index containing hundreds of quality teaching materials. To open a PDF file for printing, simply click on the topic of your choice then select the desired worksheet from the links on that page. You are welcome to use any of the materials on this website without asking permission, granted that our strict copyright policy is respected.
http://www.englishmaven.org/
Welcome to EnglishMaven.Org — your resource for free online English lessons and exercises. To the left you will find our index of English subjects. Click on the subject you wish to study. Then click on a link to open an exercise on the following page. You are welcome to use any of the English quizzes and materials on this website without asking permission, but you may not duplicate this website in any way.
Grade school (K-12), General Educational Development (GED), English as a Second Language (ESL), and all interested in advancing their knowledge of the English language should be able to benefit from this website. We offer a large variety of accurate and concise skill building resources geared towards a range of ability levels. We hope you find our resources visually appealing, straightforward, easy to locate, and able to capture the essence of the English language. No registration is required to access these resources.
http://www.mes-english.com/
Welcome to MES English, Resources for teachers of young learners. All of the resources are designed to be versatile and useful across a broad spectrum of ages and levels. This site hosts flashcards, worksheets and handouts to match, phonics worksheets, ESL games, certificate templates , and other activities all ready for printing.
Engaging interactive tasks and printable worksheets that introduce, reinforce and recycle vocabulary. Activites are self-paced and self-correcting and include recordings by native speakers.
Thousands of FREE teaching resources. Get worksheets, flashcards, story patterns and much more!
PRINT ACTIVITIES has thousands of preschool printables and worksheets for kids. They include printable preschool, kindergarten and grade school worksheets such as coloring sheets, math worksheets, alphabet letters, word searches for kids, printable mazes for kids, crossword puzzles for kids, tracing letters, color by number worksheets, crossword puzzles for kids & much more. These educational worksheets for kids help develop reading and writing skills, math skills, & logical reasoning.
KidZone's printable preschool and kindergarten worksheets help younger kids learn their letters, numbers, shapes, colors and other basic skills.
KidZone's printable grade school worksheets help older children learn phonics, reading, creative writing, math, geometry, science and geography.
Free Children's Printable Worksheets whether you are a parent, playgroup leader, teacher, nanny, au-pair or babysitter, here you will find children's printable activities that are both entertaining and educational. They are suitable for all young children including preschool and primary school.
We have created a selection of original, hand drawn colouring sheets, puzzles, and activities to help you keep your children entertained. These are all free to download for you to print and share, and are perfect for parents, teachers and carers of children.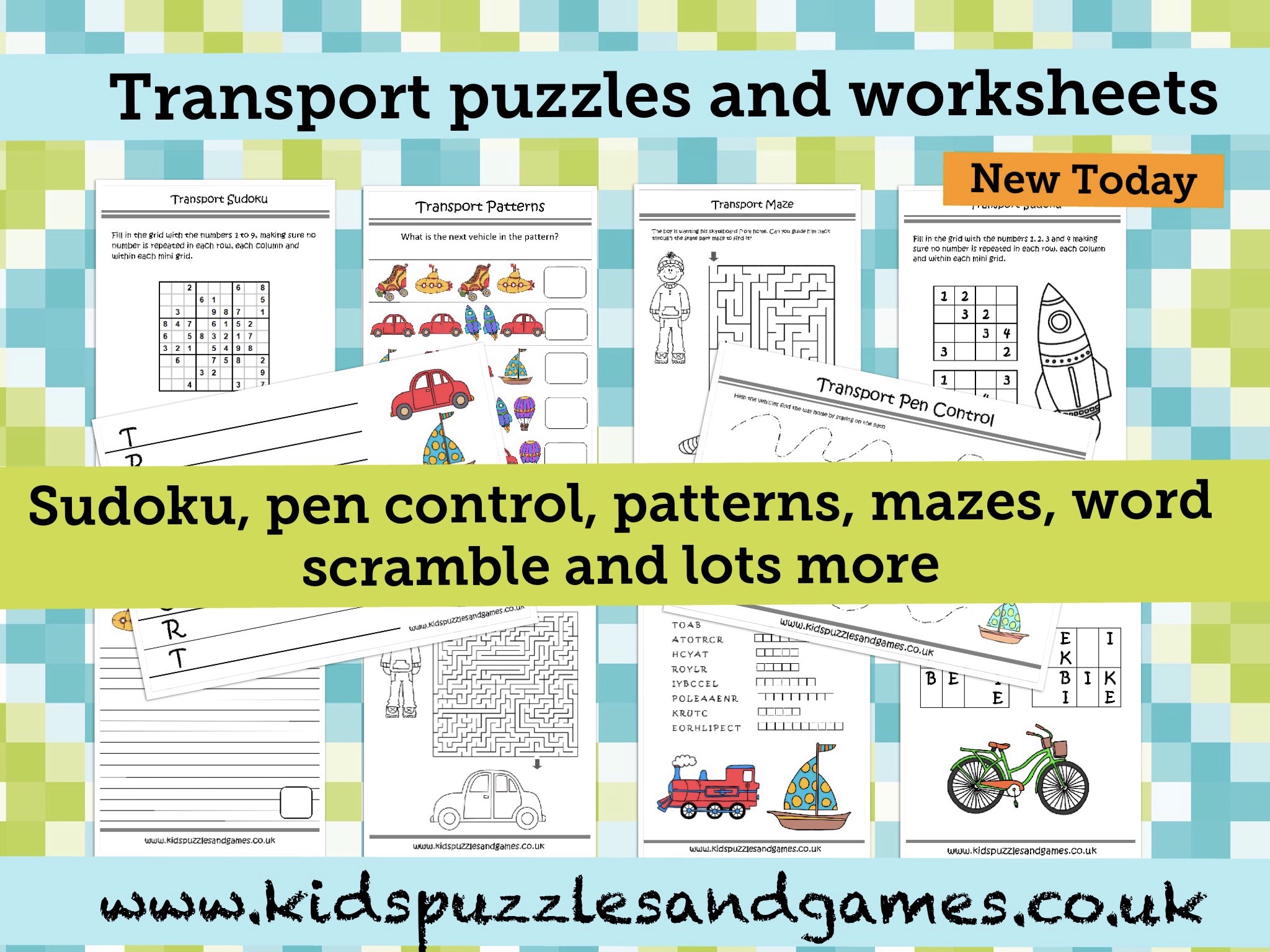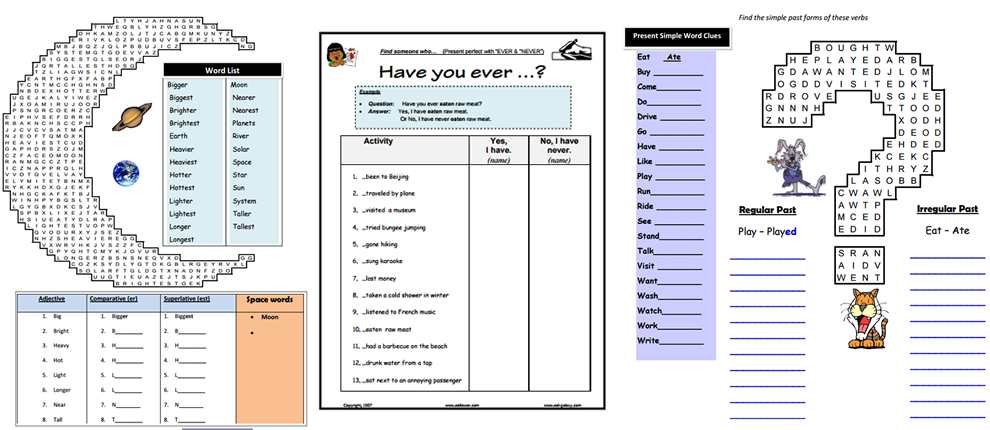 We have tons of FREE, PRINTABLE ESL resources for teachers, including ESL worksheets, ESL grammar exercises, ESL writing exercises, ESL phrasal verbs worksheets, and an ever-growing bank of EASY, USEFUL games and activities for the ESL classroom.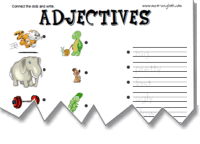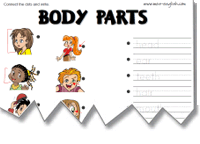 spelling
Learn to spell from one of our existing spellings lists or create your own using words from your child's own class. Currently there are 57 spellings lists with over 4000 words — new words and lists are continually being added.
High quality audio is essential for an online spelling tests. We use the highest quality text-to-speech software available.  Click below to hear an example of the audio
http://www.phonicsplay.co.uk/freeIndex.htm
The free area of the PhonicsPlay website is filled with free interactive games, phonics planning, assessment ideas and printable resources. There are many ideas to support teachers in delivering daily phonics sessions and lots of advice to support parents in helping their children learn to read.
This website contains
VocalTractLab: An articulatory speech synthesizer and tool to visualize and explore the mechanism of speech production with regard to articulation, acoustics, and control.
Image3D: A tool for the exploration of volumetric magnetic resonance images and tracing of contours in these images.
GlottalImageExplorer: A free and open-source PC software for the segmentation of the glottis in endoscopic high-speed films of the larynx.
Background information about articulatory speech synthesis and the models and methods implemented in VocalTractLab.
We hope that this website and software will facilitate the understanding of the human vocal system and the principles of speech production. VocalTractLab was developed as a research tool by Peter Birkholz and is continually extended due to ongoing research.
At Rachel's English, you'll find everything you need to speak better English.
Over 400 FREE videos that teach:
•  The sounds of American English
•  The keys to conversational English:  rhythm, intonation, linking, and stress
Learn how these concepts work together to speak confidently and be easily understood while improving listening comprehension.  Study how Americans really speak.
These are the symbols for the sounds of English. Clicking on a symbol will take you to another page where you can watch a video about that particular sound.
kizphonics
Kiz Phonics is an excellent progressive program for teaching kids to read using a systematic phonics approach.The Kiz Phonics program is carefully arranged by levels from Preschool Ages 3-4, Kindergarten Ages 4 -6, 1st Grade Ages 6-7 & 2nd Grade Ages 7-8. It is suitable for school teachers, home-school parents and other educators trying to help children learn to read.
Free English listening tests, listening activities for students, and matching audio files!
reading
http://www.literactive.com/Home/index.asp
Literactive is the leading provider of reading material for pre-school, kindergarten and grade 1 students available online. The program is comprised of carefully levelled guided readers, comprehensive phonic activities and a wealth of supplemental reading material which gradually develop a child's reading skills in a sequential and enjoyable manner. Developed and approved by teachers and parents across the United States, Literactive is the acknowledged leader in early learning online. All the material is available for free from this site but you need to register.
Where children learn to read with stories, songs, games, cartoons, comics and more. MightyBook is the perfect place for children who enjoy books, music, art, games and puzzles. You'll find hundreds of original stories and songs, plus scores of classic books, poems and children's songs. Everything is illustrated, animated and read out loud. Complete lesson plans and quizzes are included with many of the books and songs. You can sample a few of them on our free pages. Hundreds more are available to subscribers, with no advertising.
The Story Cove online resources and paperback books are popular with kids, especially emerging readers and kids who are becoming proficient readers. Teachers and parents throughout the US, UK, Australia, Canada, and Asia have been effectively using these animated stories, picture books, and lesson plans to:
Strengthen core reading skills (Comprehension, Phonics, Fluency, and Vocabulary)
Expand a child's world view
Nurture a child's love of reading
Increase a child's understanding of different cultural traditions
Reinforce positive character traits and values
Provide a model for decision-making with positive and negative consequences
We invite you to experience Story Cove by viewing our Sample Story.
словари
инструменты
WordWriter. A powerful, flexible and fun platform that strengthens vocabulary development.
StoryWriter. Collaboratively create a published paperback book with your class
ProjectWriter. Students demonstrate their knowledge and skills by collaboratively creating a class "textbook"
Easy essay service is the key to academic success
This free online software tool calculates readability : Coleman Liau index, Flesch Kincaid Grade Level, ARI (Automated Readability Index), SMOG. The measure of readability used here is the indication of number of years of education that a person needs to be able to understand the text easily on the first reading. Comprehension tests and skills training.
This tool is made primarily for English texts but might work also for some other languages. In general, these tests penalize writers for polysyllabic words and long, complex sentences. Your writing will score better when you: use simpler diction, write short sentences.
It also displays complicated sentences (with many words and syllables) with suggestions for what you might do to improve its readability.
Basic text statistics are also displayed, including number of characters, words, sentences, and average number of characters per word, syllables per word, and words per sentence.
Free tools for teaching — printable worksheets, classroom printables and on-line worksheet templates with images  from Tools for Educators. Use these  free worksheets to print, game makers, and programs for teachers   to make and print teaching resources with pictures or classroom materials for kids. They are simple, but beautiful, versatile and powerful.  I hope your students (and you) enjoy the resources.
Make handwriting practice worksheets for children learning to write the alphabet. Create writing practice sheets in D'Nealian or Zaner-Bloser style, in print or cursive form. All for FREE!
Fun, Easy and Inexpensive Kids Crafts Ideas for Toddlers, Preschoolers, Kindergarten and School-Aged Children
http://www.wordlearner.com/
Word Learner — это сервис создания рабочих листов, головоломок, упражнений, карточек и игр. Сервис ориентирован на изучение иностранных слов на различных языках.
Для начала работы необходимо зарегистрироваться. Сервис поддерживает кириллицу в создании дидактических материалов. Есть бесплатный тарифный план. Есть поддержка мобильных устройств.
При регистрации необходимо выбрать в каком качестве вы будете работать на сервисе.
Общие возможности для зарегистрированного пользователя:
Поиск слов
Сохранить слова
Получить одно или более слов для ежедневного изучения
Играть В Онлайн-Игры И решать Упражнения
Возможность создавать Карточки И Головоломки
Для преподавателей есть несколько больше возможностей по созданию разнообразного дидактического материала:
Основные инструменты:
Цифровые карточки для слов и фраз.
Заполнить пробелы правильными словами.
Сопоставить слова с их правильным переводом.
Прочитать подсказку и угадать недостающую информацию.
Классический кроссворд.
Тасуем буквы в словах.
и др.
Инструкции для работы с инструментарием сервиса здесь.
http://www.cram.com/
CRAM — сервис создания карточек. В основном ориентирован на преподавателей иностранного языка.
Для начала работы с сервисом, необходимо зарегистрироваться. Сервис поддерживает кириллицу.
К каждой карточке можно прикрепить текст, изображение, звук.
Вариантов работы с карточками несколько. Это может быть просто показ карточек последовательно на экране или реализация материала карточки в игровом виде. При выборе игры ведётся рейтинг участников.
Инструкции для работы с инструментарием сервиса здесь.